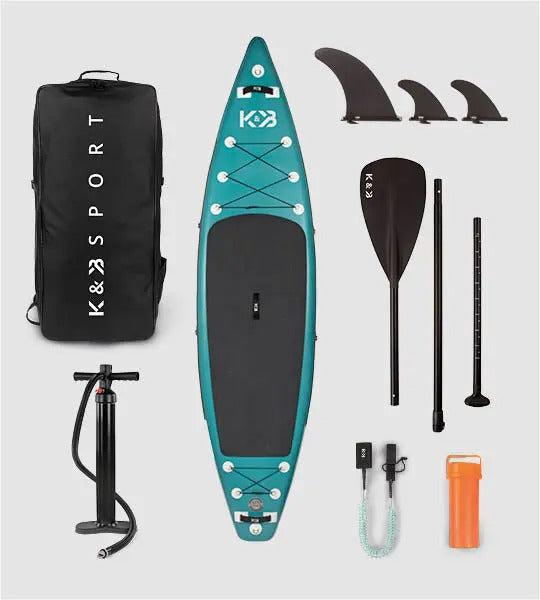 Inflatable Paddle Board 11' K&B
---
Description
Reviews
Inflatable Touring Paddle Board 11 Feet
PAD1011KB
Float away effortlessly, with this collection of inflatable paddle boards. Built to last, these models are made with laminated double PVC layers and include an EVA anti-slip for optimal grip. Use the shorter boards for cruising, and the longer ones for performance sports. You can even transform your board into a kayak, by strapping a kayak seat to the paddle board deck and securing it with the lateral metal rings (seat not included). Plus, each board comes with a variety of useful accessories to let you enjoy your day out on the water.
Inflatable Touring Paddle Board made with laminated double PVC layers for maximum durability and a good impact resistance (8.8 ft model built with single layer construction)
EVA anti-slip foam deck for great comfort and optimal grip
Smaller models offer a rounded, versatile shape, perfect for cruising and small waves
Longer models offer a sleek design, ideal for performance sports
Various ergonomic handles included for easy transportation
Adjustable, matching spiral leash with Velcro closure, to secure your paddle board on your ankle
D-rings and bungee straps to store your essentials of the day, including dry bags, a cooler, flotation devices, etc.
Deflate the board easily, fold it and store it in the carrying bag, included with your purchase
Each paddle board comes with a carrying bag, 3 fins, a paddle, a triple action hand pump, a spiral leash, and a repair kit
Strap a kayak seat (not included) to the 4 lateral D-rings and transform your paddle board into a kayak
Inflatable Touring Paddle Board Dimensions: 32' W × 11′ H × 6' D
Capacity: 330 Lbs (150 KG)
Average weight: 29.7 Lbs (13.5 KG)
Optimal Inflation: 22.5 PSI